Biomass Heating Plants in Central Slovakia
The project of Slovak NGO CEPA originally was proposed in 2003. It is oriented on substitution of coal fired heating boilers by biomass ones in 9 small villages in countryside of Central Slovakian region - Polana. Due to administrative delays is going to be realised in 2009. This project is also supported by FAE Slovakia (INFORSE-Europe member).
Project organised by the Slovak NGO CEPA/Friends of the Earth Slovakia/CEE Bankwatch Network
•
To replace the current obsolete heating systems in 32 public buildings in 9 (10) rural villages in Central Slovakia with modern woodchips-based systems.
•
T
o encourage other rural regions with similar
renewable energy
potential to use their local resources.
•
Expected project costs: appr. 1 million EUR
---
Map of Slovakia
Map of the region
Wood processing plant
Heating plant
Rural villages with proposed biomass heating plants in Central Slovakia:
•
Kordiky, Kraliky, Riecka, Tajov,
•
Lubietova, Hiadel,
•
Poniky, Hrochot, Molca,
•
(Cierny Balog).
à
Sustainability: the project will enhance economic self-sufficiency of rural areas through the use of local biomass potential for local energy needs.
à
Savings: municipal expenses for heating of public buildings will decrease and savings will become available for regional development.
à
Emissions: the total CO2 emissions will be reduced by approximately 8.5 thousand tons in 10 years.
à
Modernization: Public buildings will be equipped with efficient heating systems. Most of the current boilers and heat distribution systems require serious reconstruction anyway.
à
Follow-up: the project will test opportunities for its broader introduction to other regions
Fuel preparation & storage
Expected total annual consumption: 2,160 tons of wood-chips
2. Poniky saw-mill
•
Sawdust:

400 tons
Expected costs of fuel production
Average price of fuel
•
Wood-chips: ~700 SKK/ton (~€18.50/ton)
•Wood-chips + sawdust:~550 SKK/ton (~€14.50/ton)
Investment costs
Biomass potential in the region
| | | | |
| --- | --- | --- | --- |
| Municipality | Boiler output (kW) | Annual need of heat (GJ) | Annual need of fuel (tons) |
| Hiadel | 150 + 80 | 537 + 303 | 63 + 35 |
| Hrochot | 1000 | 5987 | 700 |
| Kordiky | 150 | 1383 | 161 |
| Kraliky | 200 | 1132 | 132 |
| Lubietova | 300 + 200 | 1388 + 1003 | 162 + 117 |
| Molca | 150 | 755 | 88 |
| Poniky | 250 + 300 | 1134 + 1304 | 132 + 120 |
| Riecka | 110 + 150 | 582 + 722 | 68 + 77 |
| Tajov | 110 | 674 | 79 |
| Total (9 villages) | 3150 | 16907 | 1934 |
Hrochot
Facilities to be heated:
Municipal office, Nursery, Primary school – old and new buildings, Gymnasium, Store, Pub Nursery, Old and new curias, Cultural center, Food store, Health center
Installed output: 1000 kW
Length of heat pipes: 770 m
Lubietova
Facilities to be heated:
1. Municipal office, Post office
Installed output: 200 kW
2. Primary school
Installed output: 300 kW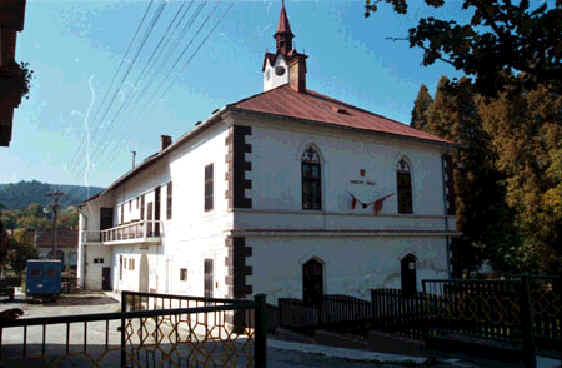 Poniky
Facilities to be heated:
1. Municipal office, Nursery, Health center
Installed output: 250 kW
Expected costs of heat production
Average costs:
231,7 - 464,5 SKK/GJ (€ 6.1 – 12.3 per GJ)
Municipality

Heat Costs

(SKK/GJ)

Hiadeľ

299,6-666,2

372,8-706,0

Hrochoť

189,6-400,9

Kordíky

209,0-346,3

Králiky

263,1-483,8

Ľubietová

206,0-391,8

242,2-461,5

Môlča

259,6-527,2

Poniky

254,0-503,5

211,0-380,5

Riečka

283,4-642,4

245,1-511,0

Tajov

252,2-580,0
2003:

project idea preparation
developing contacts
2004:

preparation of technical design and preliminary analyses
building regional partnership,
identifying financing scheme
2005:

building an organisation
ensuring funds for project implementation
project implementation
2006:

project operation
(transfer to other rural regions)